Last Modified Date: 7/28/2015 7:24 PM
The "HubSpot for Wordpress" plugin has been deprecated and replaced by the "HubSpot Tracking Code for Wordpress" plugin. HubSpot no longer develops nor supports the features of the "HubSpot for Wordpress".
Adding wp_footer to your theme
In order for the HubSpot plugin to add HubSpot tracking code to your site, you must include the wp_footer function in your WordPress theme's footer. Most WordPress themes include this by default, but if you're theme does not, you will need to include the following PHP tag in your theme's footer file (usually named footer.php):
<?php wp_footer(); ?>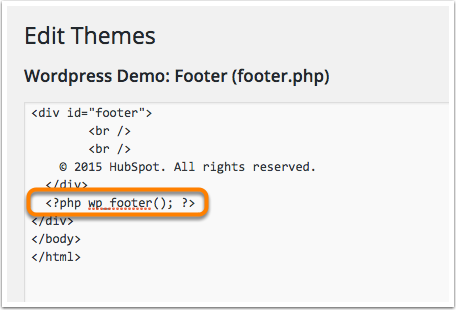 After ensuring that your theme's footer includes <?php wp_footer() ?>,
follow these steps to check that the tracking code is firing
.